'RADIO TYMES' - British Pop On TV and Radio Lost And Found, 1967 – 1969
TSLP 006 £14.99 SOLD OUT!
CD – TSSCD 006 £12.99 TRACK LIST/SAMPLES »
Following three excavations of 1960s and early 70s BBC radio session performances with the Shapes And Sounds anthologies, Top Sounds now move quite literally into 'top gear' with Radio Tymes.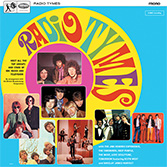 Sourced from proficiently recorded reel to reel tapes and BBC transcription discs, Radio Tymes presents very rare and desirable recordings from some of the 60s major players, and indeed some groups who would find wider acclaim during the following decade. A band still going strong today, Radio Tymes rewinds back to the early days of DEEP PURPLE with the discovery of their first live performance ever broadcast on British radio in mid 1968, as well as an incendiary number from the last session by the original line-up. Superb recordings from THE YARDBIRDS' final BBC session in 1968, including the legendary 'Dazed And Confused', finally appear in excellent quality, and unbelievably a document of JIMI HENDRIX singing live on Simon Dee's Dee Time TV programme has surfaced which has not been heard anywhere since 1967. Two great tunes by THE MOVE from the first ever Top Gear provide ample proof as to why they are regarded as one of the most revered groups of the era, and from the very same programme psychedelic heroes TOMORROW with KEITH WEST play their underground anthem My White Bicycle. The live version of Sabre Dance that initiated LOVE SCULPTURE's top ten single accompanies two other fantastic covers from their colourful repertoire, and BARCLAY JAMES HARVEST add more fuel to the fire with the quite perfect and upbeat 'Night'.
All the music has been professionally restored, with the Deep Purple tunes having been worked on at Abbey Road Studios no less, and the results of restoring music from old reel to reel tapes in particular is startling to say the least. Radio Tymes is a legitimate collection licensed from the BBC and the relevant record companies, and as per usual the LP comes with a 16 page booklet whilst the CD has a bulging 32 page book full of illustrations and information.
The vinyl version should be available sometime in August 2011, the CD edition by the beginning of September.